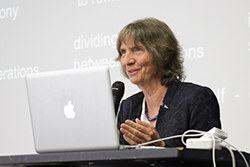 Mnemonics: Network for Memory Studies is a collaborative initiative for graduate education in memory studies between the Danish Network for Cultural Memory Studies, the Flemish Memory Studies Network, the London Cultural Memory Consortium, the Swedish Memory Studies Network, and programmes at Goethe University Frankfurt, UC Irvine, UCLA, the University of Illinois at Urbana-Champaign, Utrecht University, and Columbia University (associate partner). The network was launched at a meeting at the Flemish Academic Centre for Science and the Arts (VLAC) in Brussels on 14 October 2011.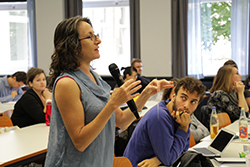 Mnemonics organizes an annual summer school around specific themes in memory studies, hosted by each of the partners in turn and lasting three intensive days. Doctoral students affiliated with the partner institutions and a number of students external to the network are given the opportunity to present and receive feedback on their research projects. Faculty from all of the partner institutions participate in the discussions, and prominent invited speakers bring their perspectives to the debates.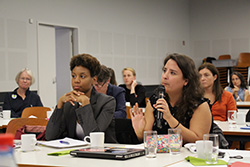 The Mnemonics summer school serves as an interactive forum in which junior and senior memory scholars meet in an informal and convivial setting to discuss each other's work and to reflect on new developments in the field. It is intended to be an exciting and stimulating intellectual event that helps students refine their research questions, strengthen the methodological and theoretical underpinnings of their projects, gain further insight into current trends in memory scholarship, and network with their peers and other academics with similar research interests.
Here is a list of past and upcoming editions with locations and topics:
Testimonials:
This was the most stimulating and useful academic experience of my graduate school career. Please keep this up! I learned so much from the summer school: useful theoretical ideas, professional advice, and wonderful connections to colleagues. This was fantastic – I can't state this enough.

Fantastic keynotes and attendee papers. The ethos of the group was warm and facilitated by the organizers' investment in breaks and meals.

Extremely pleasant, friendly atmosphere; very high-quality presentations; brilliant keynote lectures.

Amazing feedback and fruitful discussions; a wide range of presentations from various parts of the field, which delivered insights into the trajectories of future research.

It was great to get in touch with important scholars and colleagues in the memory studies field. It was a great networking and learning opportunity.

Interdisciplinary, varied presentations; internationally renowned keynote speakers; excellent opportunity to meet other junior scholars from across the globe.

Discussions and responses were extremely generative. Keynotes were beautifully addressed and corresponded to students' needs. I was extremely happy and honored to be a part of Mnemonics 2018. Thank you.

Graduate students working on memory – I highly recommend this conference/summer school. I went in 2016, and it was a terrific learning experience.

Apply! Apply! I went in 2017 and it was one of the most well organized and most informative summer schools I attended.
Mnemonics on Facebook: http://www.facebook.com/groups/mnemonics.network/
Mnemonics on Twitter: @mnemonics_net