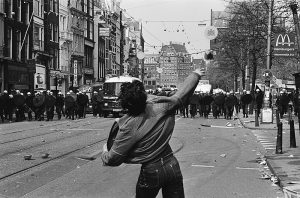 The annual Mnemonics Summer School serves as an interactive forum in which junior and senior memory scholars meet in an informal and convivial setting to discuss each other's work and to reflect on new developments in the field of memory studies. The aim is to help PhD students refine their research questions, strengthen the methodological and theoretical underpinnings of their projects, and gain further insight into current trends in memory scholarship.
The eighth Mnemonics: Network for Memory Studies summer school will be hosted by the Utrecht Forum for Memory Studies, Wednesday 18 – Friday 20 September 2019, at Utrecht University, The Netherlands.
The 2019 topic will be Memory and Activism. In recent years scholars have increasingly recognized that some practices of cultural memory look as much to the future as to the past, and that the commemoration of past events can be intimately linked to attempts to change the present and create a different future (e.g. Tetrault 2014; Reading and Katriel 2015; Katriel 2016; Eyerman 2016; Gutman 2017; Rigney 2018; Chidgey 2018; Altinay et al. 2019). The 2019 PhD summer school will explore further, both theoretically and through the study of particular cases, the interplay between memory and activism. It aims to expand and refine our conceptual and methodological tools for capturing this nexus by approaching our topic along three axes of inquiry:
memory activism: how people work together to shape memory culture as a contribution to present-day politics
the memory of activism: how acts of civil resistance are culturally remembered
memory in activism: how memory informs civil resistance in the present
We invite paper proposals from PhD students that contribute to any of these lines of inquiry or explore their points of intersection. We welcome contributions from across disciplines reflecting on the cultural, social, methodological, or ethical issues in this emerging field of research. Possible topics include, but are certainly not restricted to, the following:
What political or aesthetic strategies do activists employ to intervene in collective memory?
How do memory activists navigate different scales of remembrance (national, local, transnational, etc.)?
How do activist movements shape and control how they themselves will be remembered?
Have specific cultural forms and genres been used to capture the memory of civil resistance?
What emotional or affective registers are activated by the memory of activism compared to the remembering of trauma and violent conflict?
What "shapes of the past" do social movements themselves call into being: in what ways do they invoke the past and to what effect?
How have activists deployed new memory strategies and technologies, and how have these travelled?
How have activists made common cause across national and other boundaries and worked to create new mnemonic communities?
How do we need to update our theoretical and methodological toolbox to deal with activist memory?
Confirmed Keynote Speakers  
Marianne Hirsch (Columbia University)
Ayşe Gül Altınay (Sabanci University)
Wulf Kansteiner (Aarhus University)
Further: to be announced
Format
The summer school will include several keynote sessions and general discussions. The main emphasis, however, is on the presentation of PhD work in progress in the form of panels of 3 students who each give a 15-minute talk that is based on their ongoing research while also relevant to the theme of this year's school. In order to foster feedback and discussion, each panel will be chaired by a senior scholar who acts as respondent and kicks off the extensive Q&A. The summer school will also include a workshop on professional skills and career planning.
Participants are expected to be able to present their work in an accessible manner to the group at large within the time allotted. They are also expected to pre-circulate their paper to the other members of their panel and to the organizers at least 3 weeks in advance of the school. Finally, they are expected to be in full attendance for the duration of the school.
Practical Information
Local Organizers
Mnemonics 2019 will be hosted by the Utrecht Forum for Memory Studies, at Utrecht University. It is being organized by Prof. Ann Rigney, Dr. Susanne Knittel, and PhD students Sophie van den Elzen, Tashina Blom, and Clara Vlessing.
Where?
All events will take place at Utrecht University, at the Sweelinckzaal, Drift 21. This monumental building is located in the centre of town and easy to reach by public transport. Utrecht is a major railway junction; trains to Schiphol Airport (Amsterdam) take 25 minutes.
When?
Wednesday 18 September 2019, 9.00 a.m. – Friday 20 September 2019, 3.30 p.m.
Costs
The registration fee for the summer school is €100; successful applicants will be expected to pay this fee in advance (more information to follow). This fee covers tuition, lunches, refreshments, and a collective dinner. It does not cover accommodation. However, we do offer discount accommodation with Star Lodge hotel (direct bus connection to our location); €85 per night for a single room; €42 per night sharing; including breakfast. A fee waiver may be requested in case of severe financial need.
N.B. If you would like to avail of the discount accommodation, you should indicate this in your application, specifying your preference for a single or a shared room.
Applications
Submissions are open to all doctoral students interested in memory studies. Half of the 24 available places are reserved for students affiliated with Mnemonics partner institutions.
If you wish to be considered for a position, you should send: A 300-words abstract for a 15-minute paper (including title, your name, and institutional affiliation), a description of your doctoral research project (one paragraph), and a short CV (max. 1 page) as a single Word or PDF document to utrechtmemorystudies [at] uu [dot] nl.
Applications should be submitted by 1 March 2019, 11.00 p.m. (CET). Notification of acceptance: 1 April 2019.
Questions?
Please write to utrechtmemorystudies [at] uu [dot] nl.
Relevant Links
Mnemonics on Facebook: http://www.facebook.com/groups/mnemonics.network/
Mnemonics on Twitter: @mnemonics_net
References
Altınay, Ayşe Gül, Maria José Contreras, Marianne Hirsch, et al. Women Mobilizing Memory. Columbia University Press, 2019.
Chidgey, Red. Feminist Afterlives: Assemblage Memory in Activist Times. Palgrave, 2018.
Eyerman, Ron. "Social Movements and Memory." Routledge International Handbook of Memory Studies, edited by Trever Hagen and Anna Lisa Tota. Routledge, 2016, pp. 79-83.
Gutman, Yifat. Memory Activism: Reimagining the Past for the Future in Israel-Palestine. Vanderbilt University Press, 2016.
Katriel, Tamar. "Memory to Action." Journal of International and Intercultural Communication, vol. 9, no. 3, July 2016, pp. 264–67. CrossRef, doi:1080/17513057.2016.1193935.
Reading, Anna, and Tamar Katriel, editors. Cultural Memories of Nonviolent Struggles: Powerful Times. Palgrave Macmillan, 2015.
Rigney, Ann. "Remembering Hope: Transnational Activism beyond the Traumatic." Memory Studies, vol. 11, no. 3, July 2018, pp. 368–80. SAGE Journals, doi:1177/1750698018771869.
Tetrault, Lisa. The Myth of Seneca Falls: Memory and the Women's Suffrage Movement, 1848-1898. University of North Carolina Press, 2014.
Banner photograph, Barcelona 4 July 2018: https://peru21.pe/mundo/espana-llega-barco-inmigrantes-rechazo-italia-malta-412782?foto=4